I have been working with a client over the last several weeks to redesign her entire main floor on a somewhat modest budget. One of the biggest challenges in any design is allocating budget and knowing what items to spend your money on, what items to save on and when to reuse and repurpose items.  Here are some tips I've been using for keeping your designs in style and on budget.
1. Put your money where it counts
When allocating your budget, think about the pieces that will have the biggest impact on the room, and need to hold up over time.  For me, that is always the sofa, soft seating and one or two other large furniture items. If you skimp on your sofa, you will likely notice a difference in quality.  Where as if you purchase a less expensive side table or give a fresh coat of paint to an existing coffee table, the impact on the room will be far less substantial.  It doesn't mean you have to spend a fortune on furniture, you can still find furniture at a great price, check out some of my favorite sofas for every budget.
2. Make your designs do double duty
My client wanted to add some architectural interest to a boring hallway and also needed a place for her daughters to hang their backpacks. So we opted to build some wainscoting that pulled double duty as coat hooks and a place to put on shoes.  Make sure your designs are functional and work for your space. Let them solve a problem to improve the flow of your home and make your daily routines easier.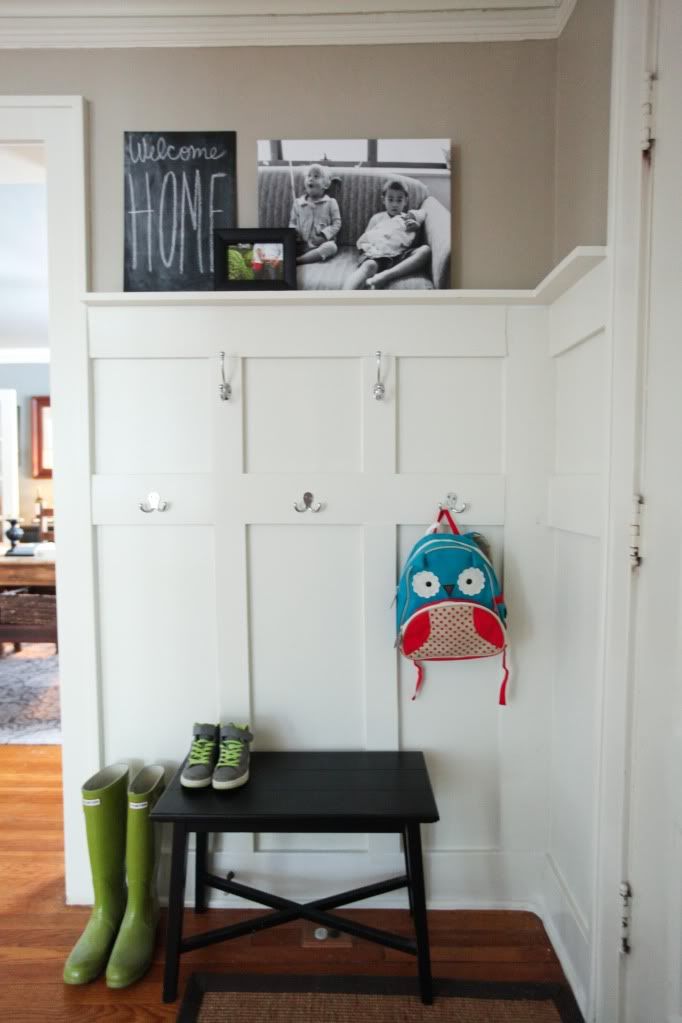 Image from thenatos.com
3. Update your Lighting 
If you are updating an entire room, it can be impossible to purchase EVERYTHING brand new.  A great way to update lighting without having to purchase all new lamps is to change out the shade. Adding a modern drum shade like this one from LampsPlus is great way to give a modern and fresh look.
4. Shop Flash Sales 
Some of my favorite resources for purchasing decor have emerged in just the last couple years with flash sale sites.  These sites usually run sales for a few days at a time, with great discounts to products.  You do need to act quickly, but if you have already come up with a good plan for your space, you can purchase with confidence when a good sale strikes you! My favorite flash sales sites are:
5. Paint
One of the easiest updates to any space is paint. Don't underestimate the impact a new color can have on a space! Because paint is one of the more less expensive ways to update a space, I think it is worth purchasing a higher quality paint. I used to find whatever brand was cheapest at Home Depot or Lowes, but recently I have been working with paints from Benjamin Moore and Sherwin Williams, and there is a huge difference in how the paint goes on and looks when dry.  When you find the paint color you want to try, pinterest it to see how it looks in other peoples spaces. It always looks a little different based on rooms and lighting, but it will give you a good idea of what the color looks like throughout a space.
6. Go Shopping in Your Home
One of the easiest ways to change the look of your rooms is to pull from other pieces within your home. Mix up your accessories, swap our floor rugs, change the art on walls and see your items in a new light.
7. Don't forget the details
By the time you come to the end of a redesign, you might be running out of steam.  But this is the most essential part! Don't overlook the impact that accessories and styling can have. Arrange interesting vignettes using family photos, fresh flowers and favorite pieces of art.  Take a can of spray paint to an old vase or find some vintage treasures at your local thrift shop to give an eclectic finish.
From the Hunted Interior
For more DIY tips and tricks and to stay tuned for reveal pictures from my latest client works, visit my blog at jhalvorsondesigns.com .